How To Write An Awesome Holiday Rental Description For SEO
What is SEO?
Search Engine Optimisation (SEO) a highly diverse process. Whilst each industry will have different methods to try and appear at the top of search engine listings, the basics of SEO are essentially the same; optimising the content, design and architecture of your website so that Google will love you, and more people will find you as a result.
For holiday rental businesses, SEO is vital to increase the traffic to your website, and so increase the likelihood these visitors will make a booking. Key to this is having optimised page copy which is both functional (e.g by using keywords) and attractive to your potential customers. Here we shall focus on holiday rental descriptions for SEO, although a lot of these tips can be applied to the content of your website in general.
Knowing your audience
Before you begin writing letting descriptions, you need to make sure you are really aware of who your audience is. We would recommend creating buyer personas – in-depth representations of your customers based on both market research and real data. This will guide you in your keyword research and writing style needed to be the most attractive to them.
Consider the following:
– Age & job title
– Goals and values (both work and home)
– Why they would book with you
– Challenges and pain points – Why won't they book with you? What would put them off?
– How they are likely to find you
You can find a range of Buyer Persona templates here, if you wish for more direction in this area!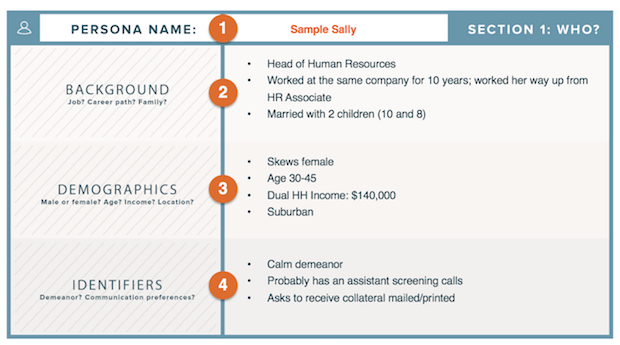 Property headline & property description
It is important to consider that there is both a property headline and a property description when optimising your letting for SEO. Not only do these need to include keywords, but they need to be attention-grabbing (visitors will only likely look at your let for 5-10 seconds, after all!). Ideally, your property descriptions will include both, but your headline will likely be more oriented towards attracting the click.
For instance "Gorgeous Spacious Home In Central Italy" will likely convert more than "Big Short-Term Let In Central Italy".
Keyword Research
Keywords orientate around the phrases your audience are using in search engines. Your vacation rental business will either be a direct or an indirect solution to this keyword query, so it is important to identify what these phrases are. For instance, for business travellers looking to stay in London, they will likely search for:
– Short-term London vacation rental
– Short term apartment rental London
– Premium London holiday apartment
– London serviced apartments
– Rent a flat for business trip
– Business trip accommodation
Some great platforms for keyword research include: Keyword Planner, the autosuggest feature on Google and Answer the Public. Try to narrow down the hundreds of searches you want to rank for, to just a few that are very specific to you.
To find out more about SEO please see our blog posts:
Alternatively, please feel free to contact us if you would like to discuss how we could integrate keywords into your holiday rental website.
Combine SEO with attractive language
It's safe to say we all know the power of words, but have you ever consider the influence of these in a property's rental description?
Interestingly, there's a lot of science behind "Words that sell". Here's a great overview by Point 2 Homes of the "Top 100 listing words that sell homes" for real estate in US.
Some key examples of attractive phrases included:
–  Hardwood floors, stainless steel appliances
–  Oversized windows, spacious living, plenty of storage
–  River views, city views
–  Private
–  Incredible, perfect, elegant, unique, fabulous, spectacular
Examples of great holiday rental descriptions
Here are two different examples from Go London Apartments showing the difference between writing for families and corporate business travellers.
For Family
In this, Go London' rental description does the following:
– Distinguishes their apartments from hotels
– Uses diction including "comfortable" and "charming classic"
– Longer sentences
– Nudges towards a shopping centre (an appropriate attraction for families/holidaying guests)
– Keywords used: short term serviced apartments, short stay apartments
For Corporate
Contrastingly in this letting description, Go London has done the following:
– Reassured audience of their value for money
– Uses phrases such as "newly refurbished" "high standards" and "ideally placed"
– Shorter, more concise sentences
– Nudges towards good location for travel and restaurants/coffee shops
– Keywords used: exclusive apartments, Earls Court apartments, business and leisure travellers
Other considerations for SEO
It is important to remember a holiday rental description is only one step in the user journey. In order to achieve a top converting holiday rental website you need to consider the whole website architecture for SEO, e.g. using keywords in the meta description, H1 and page title, and work on a range of subtle factors that encourage your visitors to make a booking once on page. You can find out more about this in our SEO Checklist.
For instance, having beautiful imagery, including a floor plan and using a bold CTA (Call To Action), will all likely encourage visitors to book, in addition to reading a beautiful rental description. CTAs, in particular, can be incredibly powerful in both text and design.
See some compelling examples from English Heritage here:
East Lodge, Hardwick Hall, Derbyshire
Others:
7 Bedroom cottage with fantastic sea views in St Davids
Each CTA gives the audience a compelling reason to click on it, by using a strong command verb and clear design and placement on the page. If you are looking to improve your conversion rate, changing the text or design of your CTAs may make a significant difference. One of the best ways to do this is to A/B test with your current CTAs.
Holiday rental software
Optimising your rental website is paramount to increase your online holiday bookings, but having an advanced CRM based booking management system is paramount to channel management, improving your time efficiency and providing great customer service.
If you would like a FREE demo of our software, please click the image below!
Guides and Resources
What next? Check out our
latest guides.
How to deliver a world-class
guest experience
Delivering a world-class guest experience is key to both attracting visitors, that they return regularly AND recommend your property to others. Here are eight tips to help you deliver an exceptional guest experience.
15 ways to increase your bookings
Are you looking for ways to maximise your online bookings and increase your profits? With the right strategies, you can make the most of the holiday season and super-charge your occupancy.